MAKE AND KEEP A SUCCESSFUL PIANO PLAYER
Posted on January 28th, 2015
MAKE AND KEEP A SUCCESSFUL PIANO PLAYER
MAKE AND KEEP A SUCCESSFUL PIANO PLAYER by Willem van Suijdam, owner of www.pianos.ph, Manila Pianos Inc, Philippine's Piano Superstore.
How often this question has been asked to me in the last 25 years, I can only take a wild guess: thousands of times.
Parents come in to a piano store to purchase a piano for their child, because the child has expressed some interest in piano lessons. Maybe because his/her friend is taken up piano, or maybe because they some someone cool playing piano on TV.
Whatever the cause is, there is this sudden interest from this child to play. The parents, and this phenomena happened in my stores in Canada as well as here in the Philippines, think a piano cost $ 500 or P 20000 or whatever very low number.
Now it is up to me, the "salesman", to tell them a good piano cost a lot more.  I now also sometimes feel I have to protect the child from his/her parents! 
It really doesn't matter how smooth I am approaching the subject, telling them about the 10,000 or so parts and how great it is that this piano can even be made for only $3000, it almost always results in the statement: Oh, but my child may not keep playing the piano, my child might quit soon and then I have paid all this money and now what am I going to do?
Now I, as a salesman I can make a choice:  sell them a cheap keyboard or a junk piano with a cracked sound board, lose tuning pins and/or an action that doesn't work right or explain to the parents the following:
There are 4 things your child needs in order to become a successful piano player namely
A reasonable set of brains
A parent or parents that put on gentle pressure to practice when needed,
A good teacher and
A good instrument to practice on.
It is my opinion, based on the fact that I am not only a salesman but have also been teaching, educating and concertizing as well as now have a long experience that these 4 factors make up 100% success rate and if any of these four criteria are not met, the chance of success drops by 25% each.
Of course, a good teacher is probably most important but arguably a good instrument will also be high on the list.
Now, if the parents do have the funding to get a good instrument and a good teacher, the success rate is very high. This also means that, as a rule, the child will get around 12% higher marks in high school as compared to his/her friend that doesn't play the piano. This is due to the higher development of a certain part of the brain. Who doesn't want that?
Then I also tell the parents that a piano is a reasonable investment. Look at a car. People have no problem spending $ 5,000.00 on a car that 5 years later has almost no more value. Those same people sometimes have a problem spending 1 10th of that on a piano that 5 years later is still worth $ 2000 or so.
Just saying, don't buy junk pianos or electronic pianos if you don't have to, I tell people the truth and sometimes they listen……..
---
Cecil Licad Concert Pianist
Posted on January 22nd, 2015
Cecil Licad Concert Pianist
CECIL LICAD Concert Pianist used Manila Pianos owned new MASON & HAMLIN 9'4″ at a concert, here is the review.
With the storm signal raised to an alarming No. 3 Tuesday last week, students and office workers scampered for home as the initial rains poured. Music lovers from Metro Manila who intended to go on an out-of-town trip to Silang, Cavite, for Cecile Licad's "Timeless" concert at the St. Benedict Chapel at Ayala West Grove, cancelled their plans and texted their regrets. They didn't want to take any risk. Some diehards caught in EDSA's afternoon gridlock simply gave up.
Writer Pablo Tariman, one of the-behind-the-scenes persons in the event along with Ray Sison of ROS Music Center, parish priest Isagani Aviñante and village homeowner Edgar Navalta, told friends who were joining him in a hired van to the venue, "Typhoon Licad is the stronger typhoon."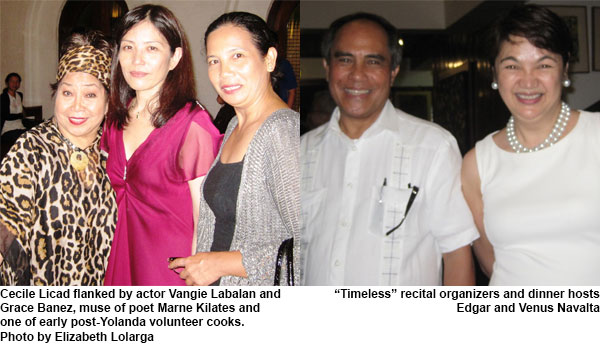 His assurance wasn't an understatement. After all, together with him and other party members in Licad's out-of-town outreach concerts, she had already survived a landslide in Banaue, Ifugao, in July 2003. In March 2012, a venue went up in flames after a recital that included an intense interpretation of Liszt's Dante sonata at the Island Cove Resort in Kawit, Cavite. Fire trucks rushed from nearby Metro Manila to respond to the four-alarm fire.
It was through no fault of hers. Neither was it her concert organizers' that the unexpected sometimes happens. From a more spiritual viewpoint, the pianist has always been protected by St. Cecilia, the patron of music, after whom her parents Jesus and Rosario Buencamino Licad named her.
On that unforgettable Tuesday evening, even the devil-chasing St. Benedict stepped in and protected her and the audience that was determined to watch and hear her play, many for the first time. She always gives her utmost best under any circumstance, even if, before she goes onstage, she receives news of a death in her family (her father) or the death of a friend (filmmaker Marilou Diaz-Abaya).
Short on words when talking about herself or her music, she'll simply say, "I'm doing something I've always loved doing." Her eloquence is in the playing.
Her July 15 program was extraordinary, too. She had practically unearthed and revived seldom-played American and French piano music: Edward MacDowell's Woodland Sketches, Cecile Chaminade's Sonata in C minor, Op. 21, selected pieces from Louis Moreau Gottschalk, William Mason's Silver Spring, Op. 6 and Leo Ornstein's Piano Sonata No. 4 whose thundering end, the "Vivo Movement," prefigured the havoc Glenda wrought several hours later.
When one considers that Licad had previously performed those same pieces (save for Gottschalk's whose compositions she had played here before) in her Texas and Florida concerts this same year, those appearances could be called her technical rehearsals, culminating in her homeland premiere of these works in a setting as inspired as a chapel.
The venue, with cathedral-like vaults built by Dominic Galicia Architects, allowed each note that Licad played on the 9'4". Mason & Hamlin grand piano to ascend, then quickly descend on the ears of those even in the back pews and who couldn't see her dramatic performance. She told Tariman two days after the concert when power was restored in parts of Metro Manila, "It was really such a beautiful place to play!"
This writer was among those in the fourth to the last row on the chapel's left wing. Yet, as another writer, Patch Cruz Araos, said, "My husband Jemil complained while we were watching that it was too bad we couldn't see her. I told him that we could hear. To me that was enough. The whole time I was just in awe that such beautiful, complex music could come from only one set of hands. But of course, they're no ordinary hands. And the venue was gorgeous, perfect for such an event."
Writer-teacher Jenny Juan, who was at the front row, later rushed up to Licad after the last encore and gushed, "From the first note, you came on like Aerosmith! Cecile Licad, you are the rocker of the classical music world!"
Cruz-Araos was also among the well-wishers, introducing herself as the sister of Raymond Cruz, the pianist's neighbor in New York City. She smiled widely and said in her trademark husky voice, "Si Mimong? Brother mo si Mimong?" Then she immediately posed to have their picture taken as though she had found a long-lost friend.
Without false humility, she obliged everyone who wanted to have their pictures taken with her or wanted her autograph on CDs or on the plain bond-paper size program, from groups of public school children to the more well-off members of the West Grove community.
The presence of her instantly recognizable cousin Nonie Buencamino, his wife Shamaine Centenera, both stage, TV and movie actors, plus character actor-teacher Vangie Labalan added to the electric atmosphere. The fans were subdued because they were inside sacred ground.
Fr. Aviñante said, "The only instrument I play is the CD. I've not seen Ms. Licad play live, but I've listened to her recordings. I have her 1988 debut album with Claudio Abbado leading the Chicago Symphony Orchestra."
Earlier, after Ms. Licad played her last encore on the grand piano, he asked before the congregation if she could "bless" the chapel's baby grand that had been moved to the right wing to make way for the bigger rented piano. Again she obliged with what would be her fourth encore after her great grand-uncle Francisco Buencamino's Mayon Fantasy.
Navalta, his family and their neighbors ensured that there would be good seats for the community members in the area who were not the usual concert-goers. These included public school kids, members of the industrial and agricultural sectors, seasonal workers like gardeners and the homeowners' domestic help. He said, "It's for love of the arts, for the glory of God."
Aviñante  said, "When you raise the cultural level, the spiritual component will also grow."
---
CUBAO PIANO CONCERTS
Posted on January 20th, 2015
CUBAO PIANO CONCERTS
CUBAO PIANO CONCERTS by MANILA PIANOS INC. 
A 63-year-old man played the piano at the LRT 2 Cubao Station on Jan. 12, Filipino commuters stopped, paid attention, took videos, applauded, and at some point, swayed and sang along with his music.
Perhaps as a testament to British award-winning author Neil Gaiman's tweet on Friday that it is indeed more fun in the Philippines since Filipinos applaud loudly, at least 300 commuters alternately took delight in the impromptu "concert" of pianist performer Vidalito Infante in a music retail stall at the Cubao Station from 4 to 6 p.m.
"I just can't stop myself from playing good music, and besides, the crowd here wouldn't let me stop as well,' Infante said smilingly, waving to the people who were still gathered around him even after he had finished his show with his rendition of the Italian pop song Quando, Quando, Quando, bossa nova style.
On his way to take the LRT ride in Cubao, Infante said he could not resist the sight of the Wilhelm upright piano that was on display for sale, and started to play some of his favorite songs that included the classic hit Fly Me to the Moon and the popular OPM song Anak. Infante, or Mang Bong, as he prefers to be called, plays the piano at the Rockwell Mall in Makati every Sunday from 2 to 5 p.m.
What started out as a simple exercise for Infante that afternoon stretched into a two-hour performance as commuters and bystanders gathered around him and applauded to every song he played on the piano.
Infante indulged and gamely played, among others The Prayer, Looking through the Eyes of Love,and Dito sa Pitong Gatang. In fact, he had to play his "last song" for five times as the crowd wouldn't just let him put an end to the unexpected aural treat.
"I just got out of the station and I noticed there was a crowd and I can hear the music. I couldn't tell where it was coming from, so I stopped until I realized it was an old man who was playing the piano. He's just amazing," said 19-year-old Nikki Espino, a student from Centro Escolar University.
"His energy is incomparable. When you look at how his fingers touch the bars of the piano, you know it's passion. He's gifted. Ang galing!" said Julius Mohara, an import-export broker who stopped to enjoy Infante's performance. He said he has witnessed how Infante wowed the crowd in Megamall when he also came up with an on-the-spot performance there two weeks ago.
Infante was clearly in his element. His showmanship, sense of humor and rapport with the audience were evident as he engaged them in his performance. At one point while playing The Blue Danube Waltz, he got up from his seat and egged the crowd to dance, even demonstrating a step or two on how to properly dance the waltz.
By the time he played his last song for the day, the mood around him was already celebratory that a young man couldn't help but sing a line from the song Quando, Quando, Quando, while the stall attendant got one of her maracas and played along. The scene was reminiscent of old Filipino films where crowd breaks out into a song-and-dance number.
After the performance, the crowd applauded enthusiastically. Infante shook the hands of some of his audience and "shooed" them away.
---
Concerts Manila
Posted on January 20th, 2015
Concerts Manila
Concerts Manila by MANILA PIANOS INC.  We at www.pianos.ph are having a lot of FREE concerts in our shworoom at 2248 Chino Roces in Makati, 2e level CW Home Depot.
A concert is a live performance of music in front of an audience. The performance may be by a single musician, sometimes then called a recital, or by a musical ensemble, such as an orchestra, a choir, or a musical band. Concerts are held in a wide variety and size of settings, from private houses and small nightclubs, dedicated concert halls, entertainment centers and parks to large multipurpose buildings, and even sports stadiums. Indoor concerts held in the largest venues are sometimes called "arena concerts" or "amphitheatre concerts". Regardless of the venue, musicians usually perform on a stage. Concerts often require live event support with professional audio equipment. Before recorded music, concerts would provide the only opportunity one would generally have to hear musicians play. Informal names for a concert include "show" and "gig".
The nature of a concert will vary by musical genre, the individual performers and the venue in which the concert is being played. Concerts by a small jazz combo or small bluegrass band may have the same order of program, mood, and volume, but vary in music and dress. In a similar way, a particular musician, band, or genre of music might attract concert attendees with similar dress, hairstyle, and behavior. For example, the hippies of the 1960s often had long hair (sometimes in dread lock form), sandals and inexpensive clothing made of natural fibers. The regular attendees to a concert venue might also have a recognizable style, comprising that venue's "scene".
Theatrical
Some performers or groups put on very elaborate and expensive shows. In order to create a memorable and exciting atmosphere and increase the spectacle, the artist will frequently include additional entertainment devices within their concerts. These tend to include elaborate stage lighting; an image magnification (IMAG) system and/or pre-recorded video; inflatables, artwork or other set pieces; various special effects such as theatrical smoke and fog and pyrotechnics; and unusual costumes or wardrobe. Some singers, especially in genres of popular music, augment the sound of their concerts with pre-recorded accompaniment, back-up dancers, and even broadcast vocal tracks of the singer's own voice. Activities which may take place during these concerts include dancing, sing-alongs, andmoshing. Some performers well known for including these elements in their performances include: Pink Floyd, The Flaming Lips, Cher, Alice Cooper, Iron Maiden, Daft Punk, Lady Gaga, Kanye West, Jean Michel Jarre, Sarah Brightman, KISS and Madonna.
Concerts involving a greater number of artists, especially those that last for multiple days, are known as festivals. Unlike other concerts, which typically remain in a single genre of music or work of a particular artist, festivals often cover a broad scope of music and arts. Due to their size, festivals are almost exclusively held outdoors. New platforms for festivals are becoming increasingly popular such as cruise ships.
A concert tour is a series of concerts by an artist or group of artists in different cities or locations. Often concert tours are named, to differentiate different tours by the same artist and associate a specific tour with a particular album. Especially in the popular music world, such tours can become large-scale enterprises that last for several months or even years, are seen by hundreds of thousands or millions of people, and bring in millions of dollars (or the equivalent) in ticket revenues.
Many concerts are held in Manila and the Philippines every year, too many to mention, but our Facebook Page will give you info every day on Piano recitals and other. If you need, contact sarah@pianos.ph to announce a concert
---
Seiler Pianos Manila
Posted on January 20th, 2015
Seiler Pianos Manila
Seiler Pianos Manila, more Information for the customer looking for a good piano and thinking the SEILER is still a German piano after the sales person tried to do a number on the customer to get more money than they should. These articles are word for word from Pianoforum.
Samick has been making Seiler pianos in their Indonesia factory and Indonesia-made Seiler pianos are available in China and Korea since earlier last year. For upright pianos, there are two series. GS series use the name "Johannes Seiler", however the other series ED and all grand pianos use the name "Seiler" just like the Seiler made in German.According to the "piano book", German-made Seiler pianos use different name "Eduard Seiler" for pianos with less expensive action. I assume this decision was made by the original Seiler owner to protect the Seiler brand. Do you think Samick did the right thing to use "Seiler" brand for Indonesia-made Seiler?
According to the Samick dealers in China, the ED series have the same design and material used by the German made Seiler, I wonder if it is so "close" to German made Seiler, who wants to spend 2 or 3 times more to buy German made Seiler?
For NY Steinway, since Samick now owns 33% of the Steinway stock and they could own up to 40% according to the standstill agreement. What's the chance Samick could find some partners and becomes the majority owner of the Steinway? I heard the Essex piano production has been moved to the same Samick factory in Indonesia. If Samick is in control of Steinway in the future, could they put Steinway name on the Indonesia made pianos just like they did to the Seiler?
What is the ED series, do you mean "Eduard Seiler"? The "Eduard Seiler" *are* German made but have an imported action which is mounted into the piano in Kitzingen, Germany. And the price difference is not so huge. A complete German made Seiler, the 116 Primus, costs 8.350 Euro (12.075 US$). The same piano with an imported action would be the Eduard Seiler 116 Ritmo, which costs 6.990 Euro (10.100 US$). Aside from the different action those pianos are identical.
Click on the EDxxx pictures (ED series made in Indonesia), you will see the name on the fallboard is Seiler just like the ones made in Germany. The Grand piano 186EBHP (made in Indonesia) also use the name "Seiler". GS series (made in Indonesia) do use the name "Johannes Seiler", just like I said in my original post.I understand the difference between "Seiler" and "Eduard Seiler" and both are made in Germany. The point I am trying to make is that unlike the original Seiler owner, Samick doesn't seem to care the brand name "Seiler" and is willing to use it on the Indonesia-made pianos.
By Looking at what Samick did to Seiler, I won't be surprised if they put Steinway name on Indonesia-made pianos if they have the full control of the NY Steinway.
My opinion: ANYTHING TO MAKE A BUCK, BETTER OF WITH ANOTHER BRAND THAT'S AUTHENTIC.
---
STEINWAY DIFFERENT SOUND, WHY?
Posted on January 18th, 2015
STEINWAY DIFFERENT SOUND, WHY?
STEINWAY DIFFERENT SOUND, why?  by Manila Pianos Inc.
There was a time in the Golden Era of American pianos before WWII when there were hundreds of piano manufacturers in this country. Today there are only 3 left:
Steinway which makes about 2000 pianos a year
Mason & Hamlin which produces about 250 pianos a year
Charles Walter which makes less around 65 pianos per year
It can be confusing going to piano stores because there are dozens of American names stenciled on Asian production pianos. If furniture is the most important consideration, these instruments are available for very little money. American pianos cost 5 or 6 times as much as Chinese pianos which look similar.
So why do people invest so much money for American pianos? There are primarily 2 reasons:
Quality of sound and touch
Longevity of investment
Even the best of the Asian production pianos, Japanese made Yamaha and Kawai (they also have factories in Indonesia and China) are best new out of the box. Because of the soft woods indigenous to the region, use of particle board and plastic in construction, and different method of plate production these instruments are best bought new since their lifespan is limited. Also, because they are available for relatively low cost, rebuilding doesn't make financial sense for these instruments.
SOFT WOODS: The body of Asian pianos are made from softer luan mahogany. This is important because the body of the piano supports the sound board.
SOUND BOARD: The sound board of the piano is the heart of the instrument. It is the thin wood membrane beneath the strings which is responsible for the tone of the piano. It is like the top of a violin or guitar. Sometimes a sound board will crack and buzzes can occur. These can usually be fixed by highly skilled piano technicians using shims and refinishing the board. This is only possible if the piano is being rebuilt since the strings and plate of the piano must be removed. However, hairline cracks in a sound board are a normal part of aging in most parts of the country. What is essential to a sound board is crown.
CROWN: Sound boards are built into the piano under pressure causing a slight upward arching. This is what enables power and sustain of the tone. In time sound boards can flatten out and lose crown. In this case, you can rebuild the piano with new strings, hammers and such, but you will never achieve a satisfactory sound. While sound boards can be replaced, it is very expensive. And you end up with essentially a new piano. In fact in Europe, pianos which have replaced sound boards may not legally have the name of the original manufacturer on the front of the piano!
PLATE: There are 2 methods of manufacturing the cast iron plate which supports the 8-14 tons of combined string tension inside a piano.
Wet sand casting: This is the method employed by handmade piano manufacturers like Steinway, Baldwin, Mason & Hamlin as well as the best European pianos. It takes approximately 3 months for the metal to cure.
Vacuum mold process: A much faster way to make a plate (about 90 seconds) this method is used in the vast majority of Asian production pianos like Yamaha, Kawai and the many Chinese stencil brands with American names on the front.
While the strength of the vacuum mold plates is sufficient to support the string tension, the metal is less dense. As a result, there is a metallic resonance to the sound which pianos with wet sand cast plates don't have. That is why Yamaha is often the choice of rock and pop artists. The sound will cut through a mix better than a Steinway or other American made piano.
---
SEILER Pianos Manila
Posted on January 18th, 2015
SEILER Pianos Manila
For this review, I spent time with three models of Seiler grand piano from their 186 line: the SE186, made entirely at the Seiler factory in Germany with all-German parts, as it has been for many years; the ES186, whose cabinet and strung back (sound body) are made in Indonesia to the same specifications as the German-made model, then shipped to Germany, where the Renner action and German hammers are installed and the instrument is finished musically; and the ED186, assembled and finished musically entirely in Indonesia, with an action comprising a mixture of Renner and Samick parts. All three models are about the same size: 6′ 1" or 6' 2". To add an element of mystery — and objectivity — to the review process, I was not told the specific model or origin of any of the pianos until I had completed the audition and made my notes.
Customers be aware: Indonesian pianos are NOT the quality you would expect from a German Piano, to the contrary, they are still in the infant stages and if you pay a lot, you are paying too much!
I should point out that my experience with pianos has been mostly of popular American and Asian brands such as Steinway, Baldwin, and Yamaha, and occasionally of Bösendorfers, Bechsteins, and other European makes. As with most people in my profession (performing and teaching piano), my points of reference when discussing characteristics of a piano new to me, especially one of performance quality, are the tone and touch of the typical New York Steinway.
On all three pianos, I played and practiced snippets from a wide variety of repertoire, chosen to help me clearly see the similarities and differences among the instruments. Various fast and slow movements of Mozart sonatas and concertos helped me understand the pianos' potential in light, ornamented music. Rameau's Rappel des Oiseaux, with its many mordents, gave me further insight into the touch mechanism of each. I also tried out a Chopin Étude, Op.25 No.1, "Aeolian Harp," for comparisons of touch and tone control. To gain an idea of the pianos' potential in virtuoso textures and orchestral colorings, I used Liszt's Mephisto Waltz, and explored the instruments' capacity for tonal coloration and textural clarity at both dynamic extremes with Chopin Étude in E-flat Minor, Op.10 No.6, and The Great Gate of Kiev, from Mussorgsky's Pictures at an Exhibition.
Seilers feel good to play, and generally respond easily to a performer's demands. All pianos had a ringing brightness in the upper registers, and rich enough bass sounds to warrant their use as practice instruments for artists. In general, the tone tended toward the bright side of the spectrum. Finally, all three pianos were in quite good shape: the actions made no discernible noise, pedals worked smoothly and without noise, and the cabinetry was quite attractive.
---
Harpsichord Manila Philippines
Posted on January 17th, 2015
Harpsichord Manila Philippines
Harpsichord Manila Philippines, we at Manila Pianos Inc have beautiful Harpsichords for sale, please look at this:
FOR SALE: 1 MANUAL TRASUNTINO HARPSICHORD MADE IN 1531, TRUE COPY BUILT BY US, TRUE COPY OF THIS FINE ITALIAN INSTRUMENT, PICTURE SHOWN HERE IS OF ACTUAL INSTRUMENT COMING TO OUR SHOWROOM SOON.
The original Trasuntino Harpsichord is in the Royal College of Music in London but it is not possible to reconstruct the soundboard, ribbing and bridges, because it had been altered before however there it is a very similar instrument to the Eldest Surviving Italian Harpsichord from Hyronimus of Bologna 1521.
That´s why we took the case of the Trasuntino and the soundboard from Hyronimus to get a beautiful new Instrument matching the requirements of today with the tone and construction true copy 1521.
In Germany, the Harpsichords had been built by organ makers, In Italy by lute makers and violin Makers. Their result was a totally different tone because of their thinking.
One kind of Italian concept was very thin walls, very light weighted keys, built only to give a big volume (similar to the Flamenco-Guitar) and this was for us the concept of our Trasuntino.
Because they are clearly louder than other Harpsichord types, they had been used until the 19th Century for Churches, Theaters, Operas, the director was leading all the music from the Harpsichord and gave all musicians the start for their part with the Harpsichord.
The Harpsichord had to be as loud as possible with a good attack in the sound. Normally, only both 8´-registers could be played together: for tuning purpose, they could be separated.
Our Trasuntinos  are good for all kind of orchestra continuo as well as home use and most solo music, they are perfect for the music of Sweelinck, Byrd, Frescobaldi, Froberger, Domenico Scarlatti.
The case in Rana/Narra, the soundboard made of spruce, the knobs on the case are in real pearl.
One manual, G/H-d³, length 211 cm, 8´,8´, Lute stop,
---
ManilaPianos rents to Stevie Wonder
Posted on January 17th, 2015
ManilaPianos rents to Stevie Wonder
Solaire Resort and Casino in Parañaque and ManilaPianos Inc. will have bragging rights when it flies in pop legend Stevie Wonder for a special performance on April 25 at the hotel's newly built Theatre at the Solaire, a source with direct knowledge of the event confirmed to the Inquirer. ManilaPianos Inc. will do all Stevie's piano work, including Midi Files and Yamaha C7.
The show is "by invitation only," which means Solaire management will determine who gets the precious formal request to watch it. The 1,760-seater Theatre formally opened in November last year.
Wonder—whose real name is Stevland Hardaway Judkins and went blind shortly after birth—last performed in the country some 25 years ago at the Ultra (now PhilSports) football field in Pasig.
Wonder's Solaire gig comes on the heels of an all-star "Grammy Salute" held in his honor, the highlight of which featured a scorching three-song set by Beyoncé (singing "Fingertips"), Ed Sheeran ("Master Blaster") and Gary Clark Jr. ("Higher Ground").
At age 64, Wonder can afford to just laze around and enjoy the fruits of his career, having sold more than 100 million albums and singles, but remains active as a performer. He will do four shows in the US before coming to Manila.
His prodigious output as a singer-songwriter has been extensively documented, with the years 1972-1976 regarded as a classic period that saw the release of the albums "Talking Book" (which contained "Superstition" and "You Are the Sunshine of My Life"); "Innervisions" ("Higher Ground," "Living For the City," "All in Love Is Fair," "Golden Lady"); "Fulfillingness' First Finale" ("You Haven't Done Nothin'," "Boogie On Reggae Woman"); and "Songs in the Key of Life" ("I Wish," "Sir Duke," "Isn't She Lovely," "Knocks Me Off My Feet," "As").
Those four albums collectively won an astonishing 13 of Wonder's overall haul of 25 Grammy Awards.
Yet critics have also pointed out that his creative streak went as far back as 1971 with the album "Where I'm Coming From" (including the single "Never Dreamed You'd Leave in Summer"), followed by 1972's "Music of My Mind" ("Superwoman…"), in which he further explored funk with the use of the synthesizer—that would later be on full display in the No. 1 hit "Superstition."
---
Manila Organs
Posted on January 16th, 2015
MANILA ORGANS
Manila Organs: Pope Francis has called for more people to donate organs in a bid to stop illegal trafficking, but spoke out against the legalization of the organ market, Rome's mayor said Saturday. Manila Pianos Inc. sells LEGAL CONTENT church organs from Holland. If you are looking to donate click here.
"The pope authorized me to say that in his view organ donation through generosity must be encouraged, but the commercial use of organs is immoral," mayor Ignazio Marino said, after meeting with Francis on Friday.
"We need to explain that donating organs is a gesture of love. Each of us, for example, has two kidneys, and giving one of them to a relative or a person we love is a beautiful gesture. Entering into the spiral of trade and sales is a crime," the pope said, according to Marino.
The meeting with Marino and a world delegation of transplant experts came as the United States debates whether or not to introduce financial incentives for organ donation, which could include reimbursing costs of travel for donors and lost wages, as well as providing long term health insurance.
Lengthy waiting lists, with thousands dying through a lack of organs, have lead some in the US to suggest the market for human organs should be legalized.
The Buenos Aires pope slammed those who profit from the poor to traffic organs, saying he had seen "many Argentine children with long scars on their backs because their families had sold one of their kidneys," Marino said.
"Exploiting the poverty of a mother who sells a kidney to feed her children, for a few hundred euros (dollars), with that kidney then trafficked and sold on for hundreds of thousands of euros, that is a crime," he said.
The Holy See did not publish a transcript of the audience.
Pope Francis has called for more people to donate their organs in a bid to stop illegal trafficking, but spoke out against the legalization of the organ market, Rome's mayor said Saturday.
"The pope authorized me to say that in his view organ donation through generosity must be encouraged, but the commercial use of organs is immoral," mayor Ignazio Marino said, after meeting with Francis on Friday.
"We need to explain that donating organs is a gesture of love. Each of us, for example, has two kidneys, and giving one of them to a relative or a person we love is a beautiful gesture. Entering into the spiral of trade and sales is a crime," the pope said, according to Marino.
The meeting with Marino and a world delegation of transplant experts came as the United States debates whether or not to introduce financial incentives for organ donation, which could include reimbursing costs of travel for donors and lost wages, as well as providing long term health insurance.
Lengthy waiting lists, with thousands dying through a lack of organs, have lead some in the US to suggest the market for human organs should be legalized.
The Buenos Aires pope slammed those who profit from the poor to traffic organs, saying he had seen "many Argentine children with long scars on their backs because their families had sold one of their kidneys," Marino said.
"Exploiting the poverty of a mother who sells a kidney to feed her children, for a few hundred euros (dollars), with that kidney then trafficked and sold on for hundreds of thousands of euros, that is a crime," he said.
The Holy See did not publish a transcript of the audience.
---